We have been operating in e-commerce business for many years. In 2007, we started with projects targeted at B2C customers, including a.pl – an online grocery delicatessen, gram.pl – a portal for gamers and sferis.pl – a multibranch e-store. In 2022, we acquired krakvet.pl, an online store with pet products.
The unique combination of our own online stores and portals with a wide portfolio of our own brands (including Actina or Activejet) has allowed us to build the necessary competence and skills as well as try and test various solutions for reaching business customers, on the one hand, and in the field of IT integration and e-commerce business scaling, on the other. Consequently, we have an in-depth understanding of the needs of B2C business – we know this business inside out, we know expectations and needs of B2C customers, and we know how to best meet them.
The synergy of competencies in the B2B and B2C areas, as well as our extensive technical background in the area of IT integration allow our Clients to take their business to a whole new level and increase profitability.
Dropshipping – the process of cooperation
01.
Launch

of cooperation
As part of IT integration with our B2B Partner, ACTION provides your e-store with access to product descriptions and live integration of dynamic data like stock states and prices.
The selected range of products appears in our Partner's e-store offer.
The end customer (B2C) places an order for the purchase of products from our Partner's e-store offer.
04.
Transferring

the order to ACTION
Our Partner redirects the order to us.
ACTION comes back with information to our B2B Partner about the status of the order, availability, waybill, delivery, etc.
06.
Finalization of the

e-commerce transaction
Shipment of the ordered products from ACTION directly to the end customer (B2C) – optionally, with an additional printed document, e.g. a copy of the complaints and return policy.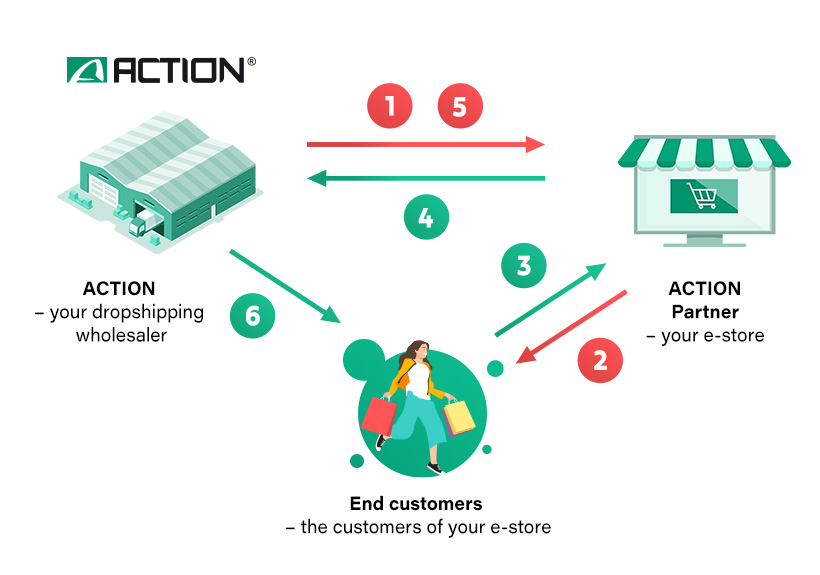 Data integration
ACTION's B2B customer, our Partner, can choose between two integration options – XLSX/CSV or REST API/EDI. These options differ in data update time, language, frequency of downloads and other functionalities. Regardless of the choice of integration model, all Partners using our I-SERWIS purchasing platform automatically receive free access to downloadable XLSX/CSV files, which contain the following information:
prices, stock states
product dimensions and weight
technical product descriptions
photos
list of categories
list of manufacturers
B2B customer reviews
We have been using ACTION's API/XML integration system for many years and we are very satisfied with it. Everything works very stably, and prices and stocks are updated on an ongoing basis. When new products are added, photos and descriptions are downloaded automatically. We highly recommend it. It is definitely worth a try.
Jakub Kański
Pamparam Sp. z o.o.
ACTION REST API is the first integration system we have used. In terms of quality of the services provided, the company has set the bar very high. Many of the functionalities provided by ACTION (e.g., order editing) are not available with most wholesalers, so you could say that we are spoiled. In addition, the service itself works very stably and does not cause any major problems.
Arkadiusz Bomba
SuperTech Sp. z o.o.
Data integration via ACTION's systems went very smoothly at our company. ACTION has well-documented integration interfaces and friendly support for developers. In addition, a very helpful sales consultant made the integration with ACTION's API easy for us to implement.
Our Sales Team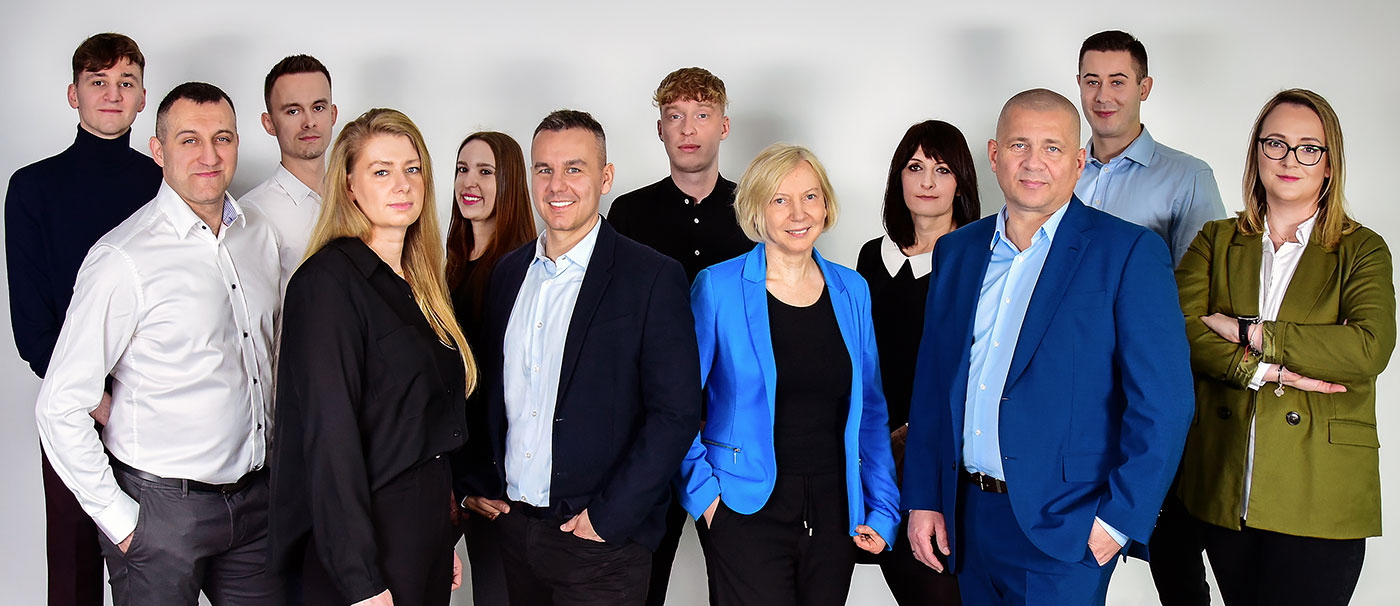 We are constantly improving the operation of our proprietary purchasing platform, as we want it to be as transparent and intuitive as possible, but we are also aware that for our Clients – especially at the first stage of implementation – direct contact with our Sales Consultant may be important. Therefore, regardless of the stage of cooperation with us, each Client receives from their dedicated Sales Mentor comprehensive professional and technical support and opportunity of direct consultation. We attach great importance to this because we know that in the times of chatbots and virtual advisers contact with a real person is very valuable, and this is what we care about.
Start your e-commerce business with us today
Get into ACTION business space and become our e-commerce Partner!
Learn more about our wide range of products and services on offer, easy data integration and our logistics centre that work together for the success of your business.