Action comes as a big winner in the 21st Poll of CRN Polska monthly, Action Business Center also among the finalists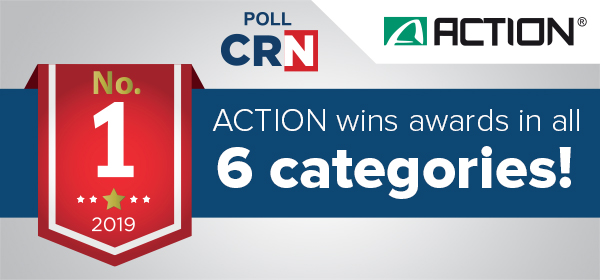 The Polish IT distributor ACTION S.A., based in Zamienie near Warsaw, which entered the Computer Reseller News Polska poll in six categories, not only won nominations but also went on to win awards in all of them. It is an outstanding achievement for the Company as it is still under restructuring but continues to fight for a return to the market leader position. And, as the market poll suggests, successfully so.
ACTION S.A. has been among the winners of the CRN Polska poll for many years. This year, as Action Business Center, it was also for the first time among the finalists in the "Value Added Distributor" category of this renowned industry competition.
"This last achievement is particularly important for us as it proves that our strategy of becoming a Value Added Distributor is working and the market appreciates it. Nowadays, what counts in IT distribution are, first and foremost, services provided by our partners thanks to the know-how gained during our training courses and one-on-one consultations in Action Business Center. Here, a product becomes only the beginning of joint business development. This was our baseline assumption when we first started building that department. And now, after many years of hard work, comes the time to reap the rewards as we gain recognition for our efforts from the market. But we will not rest on our laurels and will continue to work hard for our partners", says Sławomir Harazin, Vice-President of the Board, ACTION S.A.
This year, Action won the following titles in the online poll conducted among CRN Polska readers:
Winner in the IT Person of the Year category (prize awarded by the CRN Polska Editorial Board): Piotr Bieliński, President & CEO, ACTION S.A.

Finalist in the Manufacturer category: ACTION S.A. as the manufacturer of Actina servers and Actina gaming PCs

Finalist in the Distributor category: ACTION S.A.

Finalist in the Distributor's Sales Director category: Paweł Kopycki, Board Representative for Sales Development, ACTION S.A.

Winner in the Seller of the Year category: Łukasz Stusiński, Sales Representative, ACTION S.A.

Finalist in the Value-Added Distributor category: ACTION S.A. as Action Business Center.
On behalf of all Employees of ACTION S.A., we wish to thank you all for your votes and appreciation. They give us huge motivation to continue to be close to our Clients and not only listen, but also respond to their expectations.
Once again: a big THANK YOU to you all!