Polish Esport Cup 2020, one of the largest events for computer gamers in Poland, starts on 11th May, this year - online only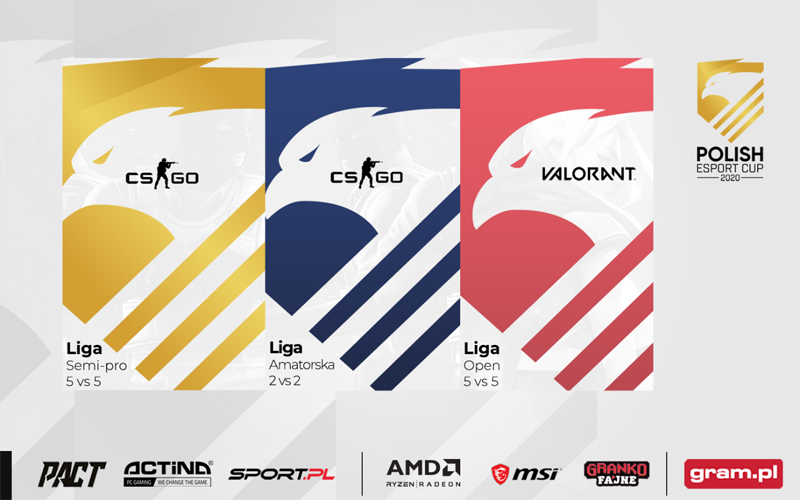 The highlights of this year's leading gaming event in Poland will be tournaments in the cult game "Counter-Strike: Global Offensive" and in the new game of Riot Games – "Valorant". The tournaments will be held over four weeks and are scheduled to finish on 7th June. The entry opens today. Both for tournament winners and viewers, the organisers and partners of Polish Esport Cup 2020 have prepared numerous prizes and other attractions.
In CS:GO, amateurs and semi-professional teams are welcome to play in their respective categories while the first Polish tournament in Valorant, to be held during Polish Esport Cup 2020, is open to all ("open category"). In total, nearly 10,000 gamers will be able to compete for the champion title without leaving their homes. All games will be available to watch via streaming with live commentary provided by professional esport commentators, including Piotr "izak" Skowyrski and Łukasz "Prawus" Ganczewski.
The total prize value, both cash and non-cash, is PLN 50,000. On top of that, the finalists of Polish Esport Cup 2020 will also be invited to join the Actina PACT Academy or take part in a professional bootcamp organised in Actina's state-of-the-art gaming house, the training camp for Actina PACT players, when it is safe again to do so.
"For a long time, it has been our dream to create together with our partners an unforgettable esport event for all gamers. The COVID-19 pandemic has only sped up our preparations for such an event while giving it a very important, social dimension. On the one hand, it complies with the principles of the #stayhome action, and on the other, it offers participants and viewers an opportunity to spend the lockdown time more effectively and to feel the strong and true emotions of esport rivalry. What's more, the combination of the wide potential audience of the tournament and all the attractions offered to viewers sitting in front of their monitors at home makes it a real feast for all esport fans, which may also be a beginning of a professional career in esport for some of them", says Michał Miłkowski, Representative of the Management Board for Components Business Development and the PC Actina Brand at ACTION S.A.
Partners of Polish Esport Cup 2020 are the top gaming brands: AMD – the manufacturer of premium-quality processors, chipsets and graphics cards, best known among gamers thanks to its cutting-edge RYZEN processors, and MSI – the world leader in gaming products and creator of "Granko fajne", a platform bringing together players and streamers around their favourite games. One of the organisers is sport.pl, the portal keeping its readers up-to-date with all the latest information about the event that will also publish streams from the tournament on its fanpage.
Among the organisers of Polish Esport Cup 2020 are also: Actina, the brand specialising in custom-built PC hardware solutions for computer gamers, and the esport organisation supported by Actina, Actina PACT, which has a well-proven track record in organising events for fans of computer games, including #PACTit CHALLENGE, attended by top Polish gaming teams and foreign guests. The media partner of the event is gram.pl – one of Poland's leading websites dedicated to computer games. Join the Polish Esport CUP 2020 event on Facebook today!